Lethal Commission Impossible
03 Nov 2011 :: by sd :: Comments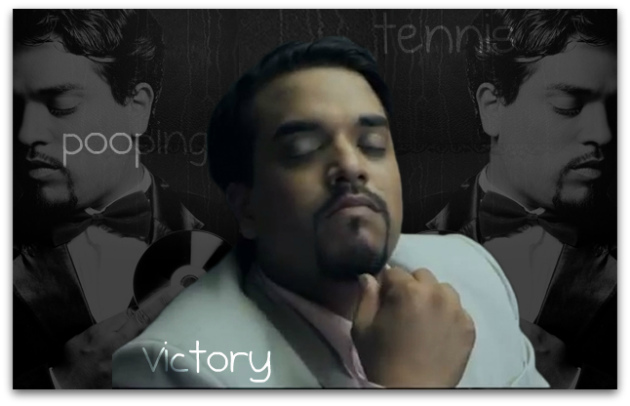 Anik Singal has Crohn's disease! Doesn't seem too relevent … but it must be super important since he can't stop talking about it on his about page …
"Anyways, long story short on the health side, I've had major problems, spent weeks in the ICU, had many surgeries – but through this entire time, I FOUGHT. I refused to give up. I specifically remember one day about 2 years ago when I was bleeding profusely and in tons of pain in the ICU and when my nurse came rushing in to help me, I was making jokes and passing lines at her I remember her saying "In the last 5 years I've been doing this, I've never seen anyone with your attitude…"

I'm 100% convinced that if it was not for my fighting mentality, I would NOT be alive today."
I'd feel like pitying him :: if he wasn't such a fucking hero. A hero out there conquering all sorts of stuffs mind you :: not just the chronic intestinal inflammation …
"My sophomore year in high school I tried out for the high school tennis team and was laughed at. I was on the FIRST list of players to get cut. I didn't even make it in the top 30. Needless to say I was very distraught. Many would quit, but I refused to. I started taking lessons and playing up to 4 hours a day."
Tennis lessons :: musta been tough … but Anik's a fighter so he pulled through. A lot of kids wouldn't have had the courage to be afforded the privilege of being able to afford the privilege of tennis lessons :: but needless to say … Anik's a fighter. Get out your debit card mommy :: Anik needs to overcome his adversities … RIGHT NOW mommy god damn it.
Anik Singal :: fighter :: hero :: occasional sufferer of bloody diarrhea :: tennis lesson victory seeker :: momma's boy :: and unicorn guru … has featured here once before … mentioned among a bunch of bastard's purported to have utilized the services of fat face failed wrestler Russell Brunson's Idaho boiler room. Those were fun times :: it's fun to take everything from people.
But now Anik Singal wants to help you succeed just like he did :: except in a whole new way that doesn't even involve milk-fed Idaho fat boys. It's called Lethal Commissions …

It works like this :: well :: I mean :: it's hard to explain :: but basically … you get commissions. "Commissions" is just fancy entrepreneurial spirit talk for when other people give you money for stuff you didn't even have to do. You keep taking these commissions until you don't want anymore monies and you just want to give back by moving to Cambodia and making sure all the little girls have a copy of People magazine … or something.
Lethal Commissions is brought to you by ClickBank :: and affiliate manager of secret millionaires everywhere … Gotcha Sean McAlister. Some of the swipe copy from the JVpage …
What if I told you a guy went internationally to find a software and in the process there were car explosions, pretty girls, poker games and a torture scene…

Sounds unbelievable right?
Yeah :: sounds sweet … who doesn't love torture?
I've secured a free movie pass to one of 2011's BIGGEST blockbusters.

Watch as this guy finds the secret commissions responsible for over $852,931 on the internet.

And he does with no remorse.
The no remorse part sounds true anyway.
How can this guy just go around being reckless and uncovering these types of profits off the internet?

$852,931 has been found and it's WAITING for you.

Seriously, watch this movie.

It's to "die" for…
Between the making of the lethal banners :: and the writing of the lethal swipe copy … the secret system improved its yield by $30,508. Can your lame ass secrets do that?

Lethal Commission is not just a fake product that can't possibly help anyone … it's also a movie made in India. If that doesn't make sense to you … it's because it doesn't make sense … but that doesn't mean that it's not happening …
Lord Shiva have mercy!
Namaste.
>> bleep bloop