Homeless to Herbalife
11 May 2018 :: by Jason Jones :: Comments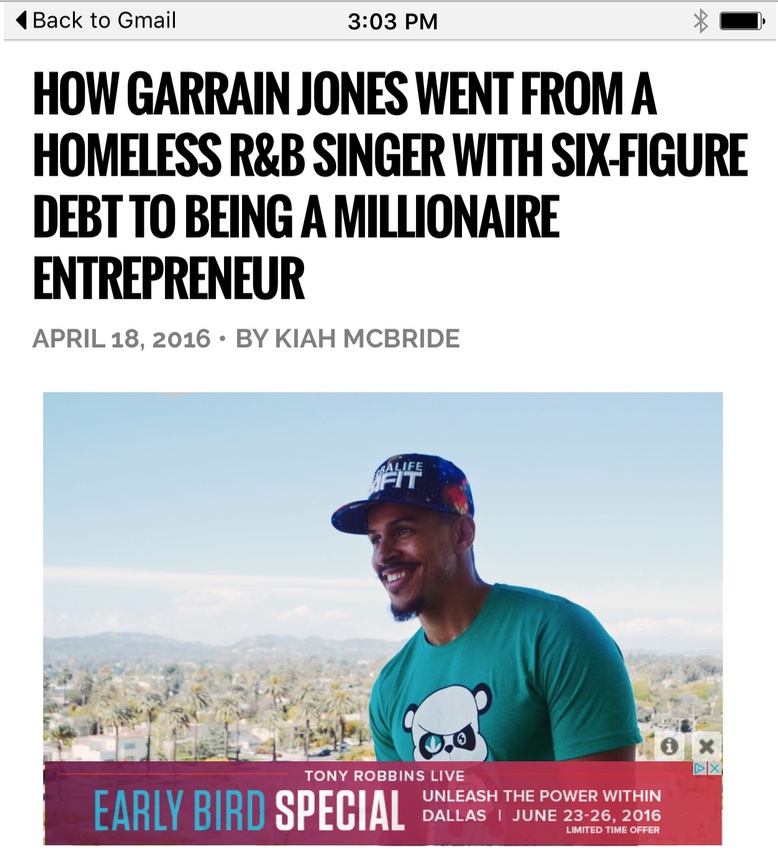 This post is brought to you by Tony Robbins.
This is your last chance to see Tony Robbins live in Dallas, June 23-26, 2016. Mention that you saw this old screen capture from my phone and receive the SaltyDroid Special pricing package (which includes being disrespected and forcibly removed from the venue). Sorry no refunds.
Now that's over, might as well look at this old article about how Garrain Jones went from "homeless R&B singer with six-figure debt to being a millionaire entrepreneur." Spoiler alert: it was Herbalife. It's a great story, especially if you definitely don't fact check it.
Dream your quest and bring your visions into fantasy!!!
I'm sorry. I know that doesn't make sense. I'm just so inspired by Garrain's non sequitur motivational stylings.
Let's skip past the bits about him stripping, Jordin Sparks, drug smuggling, etc., and get right to the miraculous turnaround.
Suddenly, the guy who hardly had two pennies to rub together was raking it in by the thousands.
That's great news. It makes sense that direct selling would lead to the sudden onset of "raking it in by the thousands."
Today, Jones is traveling the world sharing his story of going from homeless to Herbalife, and inspiring even the youngest of listeners to not allow their childhood dreams to be deferred by their circumstances or the people in their lives.
Don't let childhood dreams get deferred by childhood.
God is like, you've found your sweet spot just keep going. And I have all of these gifts that I give away.
He's a giver.
I wake up at 4:30 every single morning, and I'm just on fire for life knowing that I'm in purpose — on purpose — teaching other people how to be able to harness their gifts and their skills and give that away.
He's giving away the gift of telling others to give themselves away. That's a thing.
It's like the most beautiful thing watching somebody transform into something that their soul has literally had the platform for since the day that they were born."
Exactly.
That's my thing, and for some reason God is like you get it my son, here's more. You need money to do this? Here are more opportunities; have as much money as you want. I just want to show people that they can have that if they want it.
Herbalife Nutrition: Have as much money as you want (thanks God!).