Gary McCaffrey Blocks Embarrassing Forum
15 Feb 2009 :: by sd :: Comments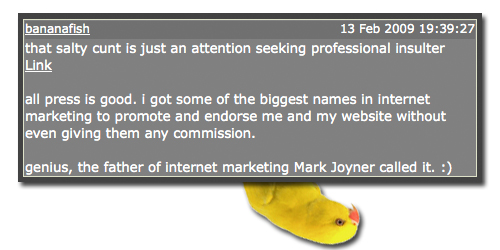 "that salty cunt is just an attention seeking professional insulter"
Thank you for linking to my blog on your "secret" forums Gary McCaffrey (aka "bananafish"). I never would have found them without your pointing me Str8 to them! I think you'd agree they've been quite a boon for The Droid. I calculate that's why you have now blocked public access to those forums.
Is it embarrassing for you that you are so tasteless, tawdry, and cynical? Is that the sort of image that a person in "marketing" tries to convey? One of a bastard, a scammer, a bad guy? Maybe "all press" isn't so good, huh Gary?? I've re-posted your tastelessness in full to a public Google Doc. Droids are just cool like that.
You are correct that The Droid seeks attention. But not from the Gr8 masses >> not from nerd hero Levar Burton >> not from Queen Veronica >> not from the spat-upon King Maker >> or the bankrupt NY Times. I'm just trying to get YOUR attention you STUPID BITCH!! You VIRUS … You FESTERING PLAGUE … You ROTTING POX!!
Looks like I have it!!