Matt "Ball Sack" Bacak - Hostile D-bag
10 Feb 2009 :: by sd :: Comments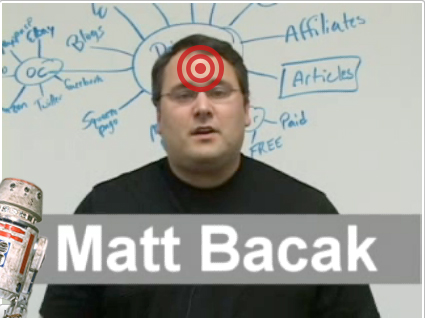 BIG FAT IDIOT Matt "Ball Sack" Bacak has been declared a hostile D-bag. The Anti-Douche-Bag Protocol has been initiated.
The Salty Droid has judged Mr. Bacak to be wholly without redeeming virtue. Ball Sack offers NOTHING of value, and he'll take your hard earned money for it. He feeds off the system like a rat; spreading disease, discomfort, and smelly little turds (which he rolls around in before sexy time). Matty Ball Sack takes much, and gives nothing. He's the kind of scum-sucking-shit-monger that exploits the weak, the vulnerable, and the naive. The sort of worthless D-bag that wields the kindness of others as a weapon against them. A hard selling, lie telling, sociopathic, shank his own grandmother in the neck kind of bastard.
Matt Bacak, aka The Ball Sack: You have activated the ADBP with your bullshit. Now would be a good time for you to change your name and move to Cuba … cause I'm gunnin' for ya bitch … and I'm FUCKING RELENTLESS!!