Microsoft vs. The Syndicate's Magic Bullet
08 Mar 2011 :: by sd :: Comments
The Syndicate just can't a catch a break right now.
Fucking karma … what a bitch.
A while back I heard a rumor that Amish Shah and Jay Styles had been sued by Microsoft for their Magic Bullet cat crap. That didn't make much sense to me :: and documents are prefered to rumors …
Well :: ta-fucking-da!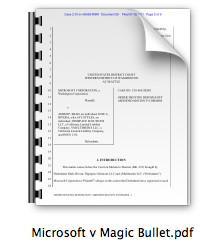 Thanks to the Wall Street Journal Law Blog.
The doc is a not-that-interesting to me pre-trial ruling … but it states the basics …
"Defendants are alleged to have registered domain names containing Microsoft trademarks in order to drive traffic to their website. Consumers seeking a Microsoft website or product are mistakenly drawn to Defendants' website through Defendants' alleged use of Microsoft trademarks. Consumers who believe they are downloading a Microsoft product are then allegedly tricked into interacting with Defendants, who in turn solicit users to download emoticons. Defendants allegedly receive payment when a visitor clicks on links or advertisements displayed on their website, or when a visitor downloads or installs a product such as the emoticon toolbar."
So the Magic Bullet was emoticons? What about unicorns?
Internet Monies!!
Debbie! :: take a letter …
>> bing bloop