Serenity Now
23 Dec 2011 :: by sd :: Comments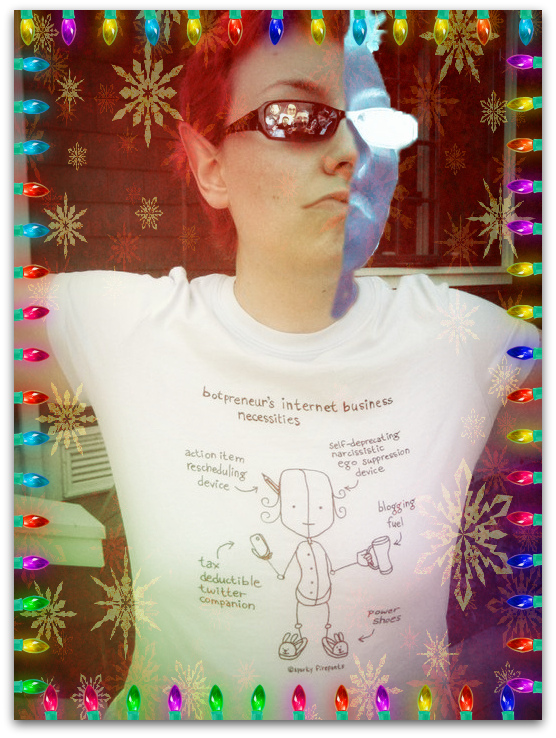 Sometimes even elves are naughty :: like Caffeinated Elf Rachael Acklin getting involved in Crystal Cox's Depressing-n-Grotesque Pornography™.
No :: thankfully … not that kind of naughty.
Tweets Rachael :: who I refuse to call Rhiannon …
Help me bring my little girl home, and get a website, logo, header, and coaching at half off.
An unorthodox reason to have a sale for sure :: but in fairness … Rachael's IttyBiz has always been uterocentric. The Demented Elf tweetlinks to what might be the worst sales page ever …
Dearest darling, this email is a very difficult one for me to write.

It's about my little girl Serenity.

She's the light of my life, nine years younger than her oldest sibling, and more stubborn than the Emperor Napoleon on a bad day.

You probably know that before the summer, I left my abusive husband. He was emotionally, psychologically, and physically abusive to me. It was the biggest, bravest thing I have ever done, but it is not without a price: we are still in the middle of the legal untanglings, and it is a long and tedious process.
Dearest darling :: it's so brave of you to call yourself brave … especially while you're still in the midst of untanglings. Maybe if sometimes you forget to tell the whole truth it should just be forgiven.
That by itself is not reason enough to write you today. I'm writing you because in November, my ex took Serenity for a weekend of parenting time, as he had done twice before, and instead of returning her … he kept her.

My little girl. My sweet stubborn beautiful Serenity. And he will not let her come home.

She hasn't been hugged by her brothers or sister in over five weeks. She hasn't slept in her bed or played with her toys or clambered up on my lap for hugs or Youtube videos or to smear sandwich-crumb-kisses on my face.

I have the support of many people, my friends and my family, and I've got the best brains I know helping me with paperwork and court dates and all the rest. But the one thing I need is an attorney, and I need to hire one soon.

It takes a lot of money to hire a really good attorney, so I am putting some of my offerings on sale for the next 48 hours. Please know that I only want you to say yes to this sale if it's right and good for you.

The Great Big Bring-Serenity-Home Sale
The Great Big Bring-Serenity-Home Sale includes this super great big offer …
3 Months of Holistic Business Coaching - regularly $2500, 50% off for $1250 - only two available

up to two hour-long sessions per month
includes email support between sessions
My business coach recommends getting into a position where I can't afford even the most basic of legal services … she's just smart like that.
Happy Holidays from the bottom of the fucking barrel …
… serenity now!
>> bleep bloop