Dean Graziosi Rocks the Bottom
26 Jul 2011 :: by sd :: Comments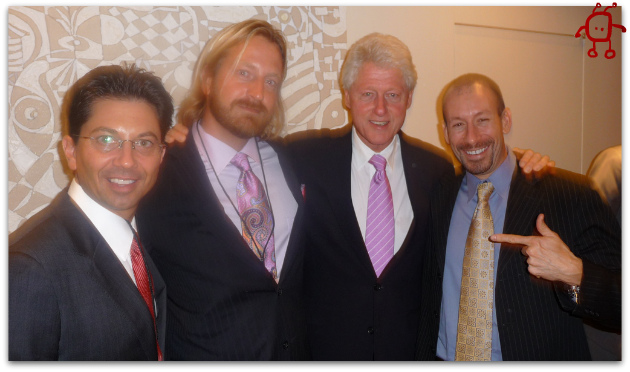 Dean Graziosi thinks anytime is a good time to sell you on the idea that now is the right time to make an unjustifiable fortune flipping real estate. It's a great opportunity for stay-at-home moms and people on disability to get out there and take action … I guess.
You know what they say about real estate … it only goes up. Or at least that's what Goldman Sachs says while they're selling you a real estate based derivative that they're betting against behind your back. Suck it pensioners :: that's what you get for not reading the fine print that we keep in our other offices.
Dean Graziosi :: stupid little nobody :: says the real estate markets have hit "rock bottom" … and he should know because he doesn't have any degrees or educations cluttering his mind with fact-i-tudes.
Dean Graziosi :: stupid little boy in a stupid little boy's body :: also says that he's been making a mega-fortune teaching his "students" how to make money in the real estates for 15 years. Or to put that another way :: he's been bullish on real estate through its darkest period since the Great Depression. Listen folks :: you can't get it right all the time. This time he's right … for seriously.
Dean's Rock Bottom Blueprint frauduct is currently fake scarcity launching at a not-store near you. In fact :: you can sell it at your own AdWords arbitrage not-store :: as Dean discusses with Mike Koenigs in this "please mail for me" appeal video …
---
---
In an effort to get affiliate respect and support Dean Graziosi says he closes 5000 leads per week :: and brings in $2 million … per fucking week! Gosh :: I wonder where he finds the time for his real estate moguling?
Says Koenigs in a sales email that doesn't disclose any of his affiliations to Graziosi …
"If you ever watch TV, you've probably seen Dean. He's been on each day for 13 years.

The last show I saw him in he was actually driving his car, pitching a BOOK on investing in real estate, using his knees to steer his Benz!

But why I respect this guy so much and why you should watch his video is that besides being one of the greatest real estate marketers around, he gets his students MASSIVE results."
… or not.
The Secret to Anthony Morrison's "Internet success" is using television infomercials and Utah boiler rooms to max out people's credit cards. DickHead Dean Graziosi can attribute his "success" to the very same The Secret. In fact :: Utah based Professional Marketing International works both accounts … in the same criminal way.
From Dean's support website …
Q: What companies do you recommend for Real Estate Coaching?

A: We have a strategic partnership with four different companies. They all provide Real Estate Coaching.

The four companies are:
PMI employees commenting on Dean's website …
When you enroll into coaching you enroll into the Success Academy. PMI is Dean's coaching company that coaches and trains those in the Success Academy.
Some happy customers …
You're lucky, you only spent 5K. I spent a foolish 12K on some "total package". It turns out the package was not the "total package" after all. A few days after I got the package I started getting phone calls from some other "tax" company telling me that "Dean" gave them my number and that I needed to purchase their product at a whopping 5K in order to truly be successful. So then it begs the question, didn't I already buy a complete package? You would think so at 12K. So why then these calls? Then I started getting email from some other guy stating that he got my info from Dean and that I need to purchase his credit repair services in order to make money in real estate.
Yep :: that's how it's done! Business! Success! Jesus Christ and his Latter Day Saints!
Just sub out Dean's name for Anthony's in the boiler room script posted here last week and you have the Graziosi script. You can hear the echo of that script in the complaints of the victims …
We were interviewed by two different people to see if we were "good enough" to be accepted into this program, even given a background check which gave them access to our social security numbers, dates of birth, etc (worries of fraud now cross our minds). Obviously we "passed" and our card was charged.
Congrats :: welcome to Utah where our State motto is :: "Fraud … and fuck you!" Our suckball Attorney General sees to it that the motto is strictly enforced by looking the other way 100% of the time. And also … do some skiing.
If you want to make money in real estate … become the manager of a hedge fund.
If you want to buy success from Dean Graziosi :: then prepare yourself for failure … and unplug your phone.
Rock bottom indeed …
>> bleep bloop